March 29, 2015
MOBYMAX: Online Learning Support at School and Home
We are excited to pilot a web-based curriculum called MobyMax in our PK-5 classroom.  In addition to access at school, all students have access to MobyMax at home.  We are hopeful that this site will be a useful way for our students to practice skills during the school year, on those occasional snow days and during the summer months.
Features of MobyMax:
Tailored to your child's individual needs.
Placement tests that identify strengths and needs.
Targeted instruction to "fill in" missing skills.
Systematic review sessions to keep skills fresh.
As an extra incentive for our students to use MOBYMAX at home, we are offering two contests.
Spring Treat:  Student who spends the most time on MOBYMAXbetween now and April 25 gets to select a class prize for their class.
Spring Break Contest: April 3-12 – Student who spends the most time onMOBYMAX earns a $20 Barnes and Noble Gift Card and a Chocolate Bunny!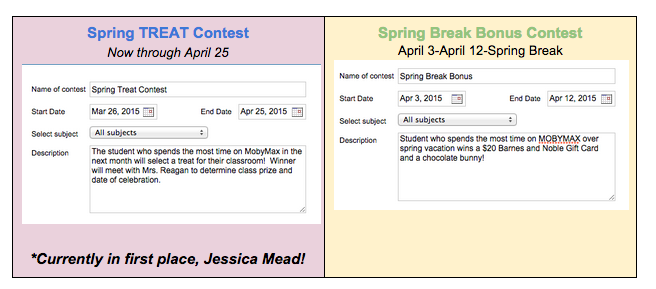 Sincerely,
Mrs. Reagan and the Georgetown Teachers
*********************************************************
MOBYMAX Login steps for your child:
Go to  www.mobymax.com/mi1457  and select student and have your child enter login/password.
OR
Click the mobymax whale image (top left sidebar on this blog or any of the MOBYMAX green text in this blog post). Once on the site, select student and have your child enter login/password.
If your child cannot remember their login information, email the teacher or Mrs. Reagan (treagan@hpseagles.net)
Once logged in, your child will immediately start the lessons and begin working on grade level skills.
You can sign in as a parent as well by selecting "Parent" from the drop-down menu and entering your child's username and password.  You will be able to monitor your child's progress from the parent option.
NOTE:  If your child is taking a placement test for a skill area, remind your child that the questions get harder and harder.  Typically, if the questions are hard, it means the skills have not been taught yet.